Earlier this summer the G‑Floor Graphic® Print Media team astonished attendees of the largest design and merchandising trade show with our durable custom floor graphics product. One of our favorite shows of the year, GlobalShop @ RetailX brings together successful industry leaders in-store design, planning, architecture, marketing, visual merchandising and more under one roof in Chicago to see what's coming next and find resources to stay ahead of the competition.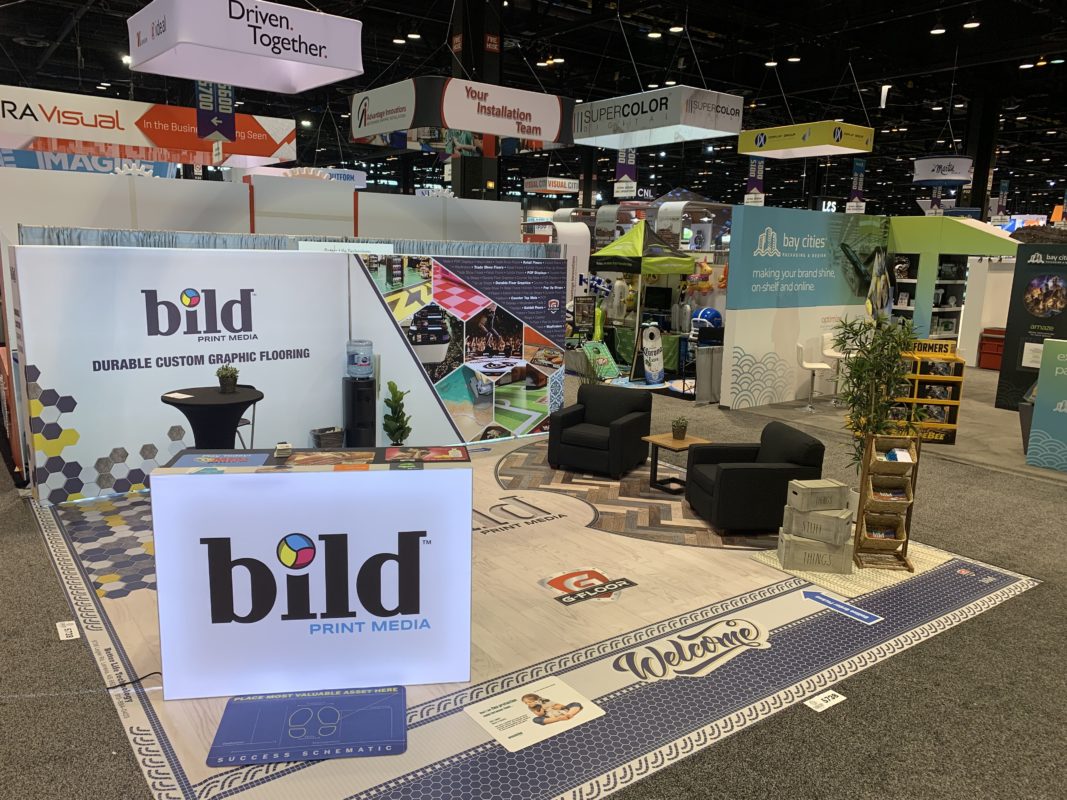 The G‑Floor Graphic tradeshow booth flooring was the star of the show with its amazing use of the G‑Floor Graphic clear print flooring material to showcase elements that might have cost a small fortune to utilize without G‑Floor Graphic. Before we explain in detail about our G‑Floor Graphic graphic tradeshow floor, let us answer a couple of important questions first:
What is G‑Floor Graphic Print Media?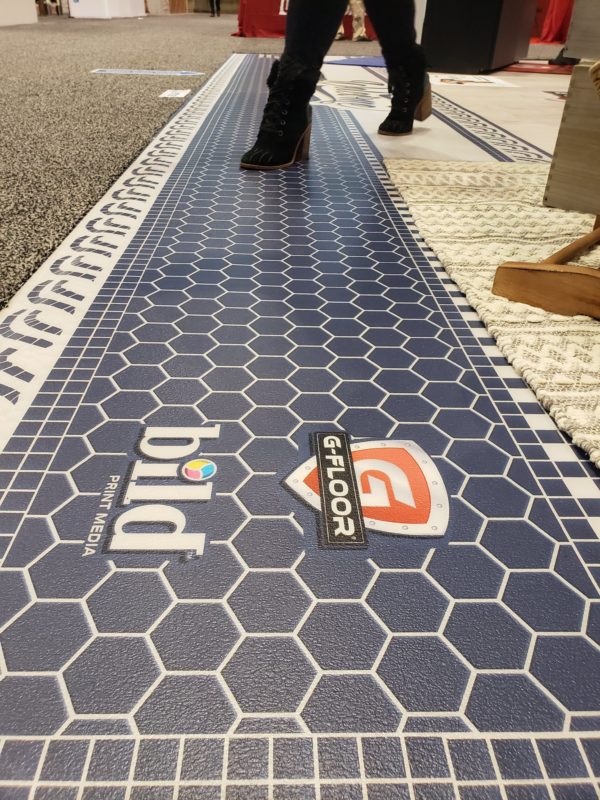 Manufactured in the USA by Better Life Technology, G‑Floor Graphic Print Media is an industry-leading vinyl print product used by retailers, architects, designers, marketers, branders, commercial businesses, and a variety of other professionals and industries to create custom flooring that stands out from the crowd. With G‑Floor Graphic, graphic designers and artists have the capability of bringing their creative images for the floor to life in vibrant color and crisp detail via our one-of-a-kind print media. G‑Floor Graphic vinyl sheet flooring rolls are designed for printing with grand-format printers using UV Digital, Solvent and Screen Printing inks. G‑Floor Graphic also offers a printable vinyl product for Sheet-Fed printers.
What is G‑Floor Graphic Clear Print Media?
G‑Floor Graphic Clear is our 100% polyvinyl product recommended for indoor use and is best suited for a graphic printed directly under our printable vinyl flooring with second surface printing. G‑Floor Graphic Clear is available in multiple sizes with a 35 mil and 75 mil thick wear layer in Super Smooth, Woodgrain and Ceramic™ surface textures. G‑Floor Graphic Clear joins these other G‑Floor Graphic Print Media products:
75 mil Solid in Slate Grey, Absolute White & Midnight Black suitable for top surface printing with an exceptional wear layer.
&
85 mil Absolute White – best for top surface printing in sizes as large as 10 ft. x 61 ft.
So… What makes this G‑Floor Graphic custom tradeshow flooring so special?
We designed a custom graphic floor for the GlobalShop @ RetailX Show that incorporated elements from other popular event flooring options to showcase G‑Floor Graphic's cutting-edge capabilities. Included in our graphic imaged flooring were sections that looked exactly like real ceramic tile, wood inlays, tile borders, and wood planks. In addition, we added directional and wayfinding images along with multiple floor messaging and floor branding components to demonstrate G‑Floor Graphic's multi-purpose flexibility.
Is this vinyl custom floor graphic cost-efficient?
Imagine how much it would cost to install real tile and/or real wood to use for your commercial flooring in office buildings, malls, stores, restaurants, etc.! It would cost a small fortune just for the flooring material and for the professional to install it. And it would be even more expensive to tear it out when you decided to change it or your flooring wore out.
When you create an image and print it on our floor graphics material, you have the capability to permanently install your floor advertising or move it from place to place. And with G‑Floor Graphic durable custom flooring, your flooring will look good for years before needing replacement.
A custom printed floor can come in many forms. This special G‑Floor Graphic product highlights how vinyl custom graphic flooring can be made to look like anything you want it to be. With G‑Floor Graphic you are only limited by your design creativity!
(Please note all the attached photos of this durable custom graphic flooring piece.)
What makes G‑Floor Graphic different than other flooring print media?
G‑Floor Graphic is 100% premium polyvinyl without any heavy paper, clay or foam fillers underneath. Its solid vinyl construction won't deteriorate like other vinyl flooring print media competitors using less expensive materials and thin wear layers, and G‑Floor Graphic lasts far longer than short term floor decals or flimsy floor stickers that need to be adhered. G‑Floor Graphic is ideal for long term graphic floors and short term floor graphics for so many reasons:
Durable, high-performing, multi-use flooring – won't crack, peel, scratch, curl, delaminate or fade
Custom graphic flooring images are protected by the toughest wear layer in this industry
Tough enough to drive on, comfortable to walk on (See photos)
Waterproof – resists mold and mildew
Slip-resistant, stain-resistant, UV-resistant
Easy care – cleans with simple soap and water, vinyl-safe cleaner or vacuum
Lightweight and recyclable
Suitable for moveable flooring or permanent flooring for coverage from wall-to-wall
In addition to tradeshow flooring, where else can I use G‑Floor Graphic floors?
You can use G‑Floor Graphic printed floors to reinforce your brand image, introduce new products, sell more of an item, and the list goes on. Here are a few ideas to get you started:
Popup shops and stores within a store
Infographic flooring for retail stores, museums, classrooms and more
Graphic tabletop mats and advertising display mats
Directional floors and wayfinding
Creative themed floors for movie theaters, concert venues, sporting events
Cool printed floors for decorating office spaces, hallways, cafeterias, healthcare buildings…
Quite frankly, the uses for G‑Floor Graphic Print Media are endless!