As cities, retail shops and restaurants begin inviting people out, G‑Floor Graphic® Print Media printable vinyl flooring and custom print mats enhance chances for a successful reopening. Targeted COVID-19 messaging and branded flooring helps businesses follow CDC guidelines for keeping customers and employees safe. Custom flooring for retailers of every kind also helps boost sales at a time most needed. Use easy to install and clean G‑Floor Graphic custom vinyl floor and countertop mats to:
· Market with wall-to-wall sanitary flooring*
· Regulate traffic flow with directional floor signage
· Direct patrons with wayfinding floor decals to restrooms, dressing rooms, checkout, etc.
· Provide 6 ft. social distancing markings
· Alert requirements for entry on door mats, i.e. mask required
· Give curbside pickup instructions
· Move floor graphics when and where needed
· Sell more at checkout with POP, sale info, pay options
· Offer wipeable tabletop/countertop placemats, menus, ordering instructions, etc.
Why is G‑Floor Graphic® the best flooring for shops and restaurants during the pandemic?
Our American-made printable polyvinyl product offers the most durable wear layer in the print and flooring industry. Owners can't be throwing money away on cheap floor decals and stickers that won't last or hold up to heavy foot traffic. Custom graphics are reverse printed so they won't damage or wear off. G‑Floor Graphic® is slip-resistant, stain-resistant, UV-stable and repositionable flooring that can actually help increase awareness and sales!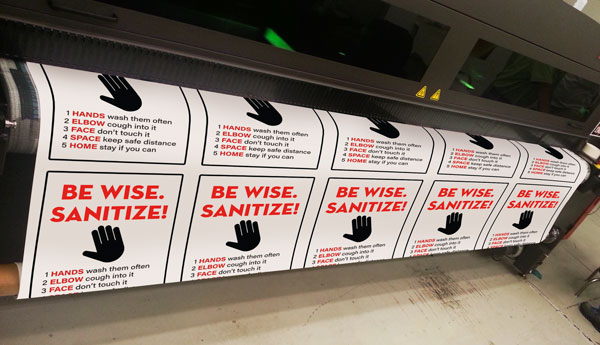 *PLEASE NOTE: G‑Floor Graphic® offers a 50 Mil Clear Elite line with an optional Anti-Microbial/Anti-Bacterial/Anti-Fungal topcoat that seals surface for an even easier clean-up and a safer environment.