There is a BIG difference between Better Life Technology's G‑Floor Graphic® Print Media vinyl floor graphics material and graphic imaged floor stickers and custom graphic printed floor decals. We'll explain what each is, best uses and how these graphic flooring materials differ.
The one thing G‑Floor Graphic, floor stickers and floor decals have in common is the variety of graphic flooring applications these products serve. Cool floor graphics are great for marketing and branding purposes to reinforce a company image and identity. Floor advertising and floor POP help sell more products. Floor signs can serve as directional flooring and wayfinding. Custom floor graphics might decorate any setting at an event, in an office, mall, warehouse, theater, restaurant, retail store, home room, and the list goes on. The uses for printed floor graphics and niche graphic flooring are as endless as the imagination and the designer's creativity.
What is a floor sticker?
Sometimes floor stickers and floor decals are used interchangeably to describe floor graphics. Some floor stickers are actually made out of paper like other non-flooring, thin stickers you might wear or affix to something. Others are made of thin vinyl. Graphics are custom printed on top of the floor sticker material and may or may not be covered with a laminate for image protection. Floor stickers use a sticky or adhesive backing to stick to the desired surface. Once adhered, they are eventually removable but are not reusable.
What is a floor decal?
Similar to a floor sticker, a floor decal usually comes with an adhesive backing. Most floor decals are made out of a thin vinyl or CERAMIC™ substrate. Custom graphics are most often digitally printed on the flooring print media with a protective overlaminate. Please note the verbiage below from competitors' websites to describe the mobility and strength of their floor graphic material.
"It is important to note that these custom floor graphics are semi-permanent and designed for one time use. They are not intended to be applied and then removed or repositioned once the adhesive sets in. Doing so will ruin the decal and make it unusable."
"The floor decals are intended for one-time use only. Thus, when applying your decal be certain that you are putting it in the correct place. Removing the decal causes stretching and damage to the graphic."
"All of our floor graphics are removable decals, not reusable, but some may be repositioned a few times based on the surface they are applied to, size of print, and the length they have adhered."
"Our decals should not damage the surface where they are applied. The only potential difficulty is the removal of long standing decals. Decals that have been in place for an extended period (greater than one year) can prove more difficult to remove."
"They are not weather resistant because they are not intended for outside use."
"To prevent damage to your custom floor decals avoid driving over them with vehicles, forklifts, or other heavy equipment. Heavy equipment, vehicles, and abrasive objects like pallets can cause permanent damage to these floor graphics. Avoid contact with any abrasive materials or sharp objects."
What is G‑Floor Graphic® Print Media?
G‑Floor Graphic is a solid, premium 100% polyvinyl print media product that is custom printable and available in a variety of colors, textures, sizes and thicknesses. G‑Floor Graphic is a revolutionary, one-of-a-kind vinyl floor graphic material manufactured in the USA and engineered for grand-format printing with UV Digital, Solvent and Screen Printing inks.
Depending on the G‑Floor Graphic product you choose – your image is printed second-surface, reverse underneath UV-inhibited vinyl and protected with the toughest wear layer available in this market – for unparalleled image durability and longevity. Certain G‑Floor Graphic Print Media is suitable for short-term outdoor use as well. Because of G‑Floor Graphic's solid, thick construction, you can drive a car on your vinyl floor graphics and you won't need to worry about scratching, cracking, peeling or curling.
With G‑Floor Graphic, you can print any custom design of any size on our vinyl graphic flooring in vibrant color and sharp detail, allowing your floors to come alive and do all the talking. Sure, you can permanently install our custom printed flooring with adhesive, but G‑Floor Graphic is also specifically-designed to be free-floating, movable flooring that is repositionable, reusable and recyclable.
The G‑Floor Graphic Difference
Most vinyl products show the image under a very thin, clear wear-layer, with layers of heavy fillers and foam beneath. On the surface this may look great, but the use of fragile materials compacted together actually decreases the longevity of the product.
G‑Floor Graphic Print Media is a 100% solid polyvinyl product. Without heavy fillers and foams, our material is both lightweight and recyclable. Made with the thickest wear-layer in the world, G‑Floor Graphic products are guaranteed to outlast and outperform any other polyvinyl product produced by any competitor.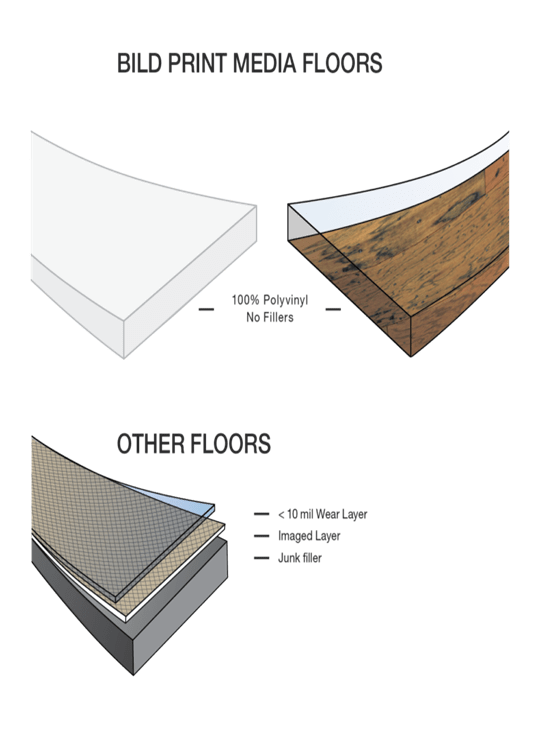 Please browse our G‑Floor Graphic Print Media section of this website for creative ideas, additional benefits of our resilient vinyl flooring, product descriptions and best uses, and where you can find our unique graphic imaged flooring.