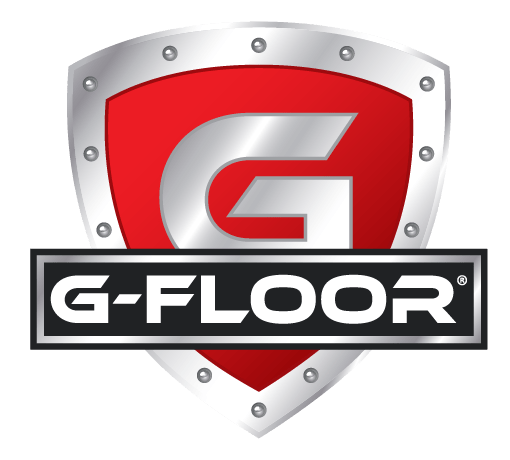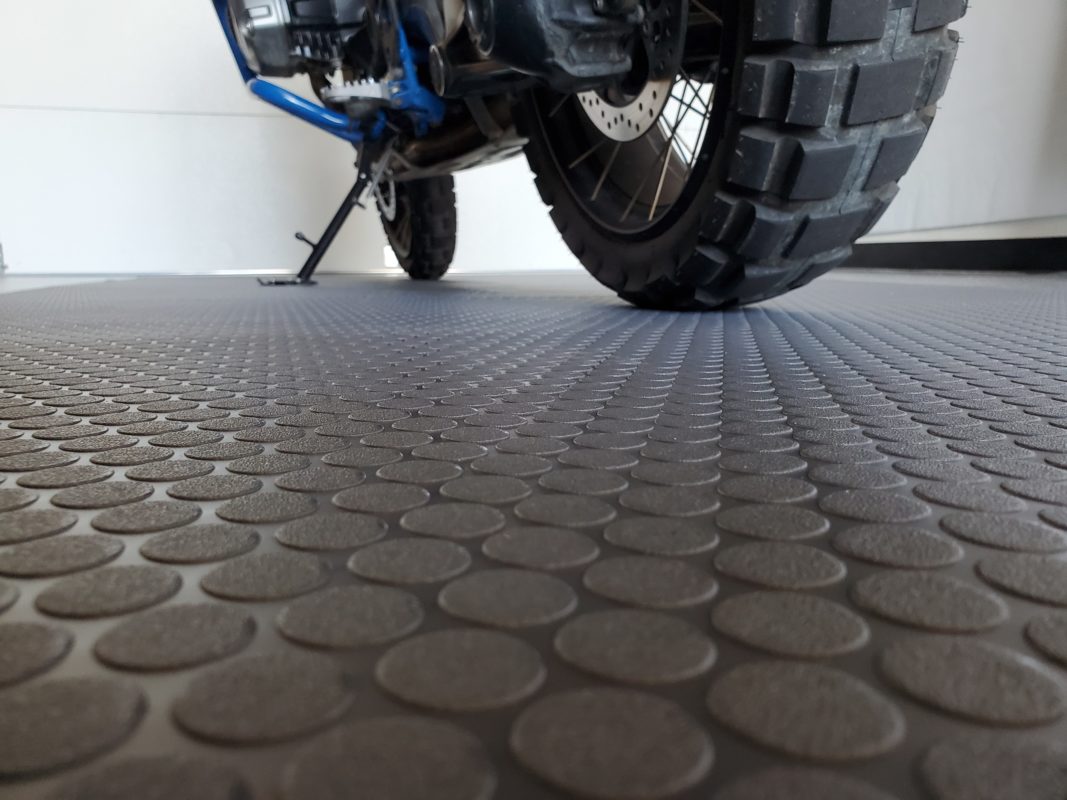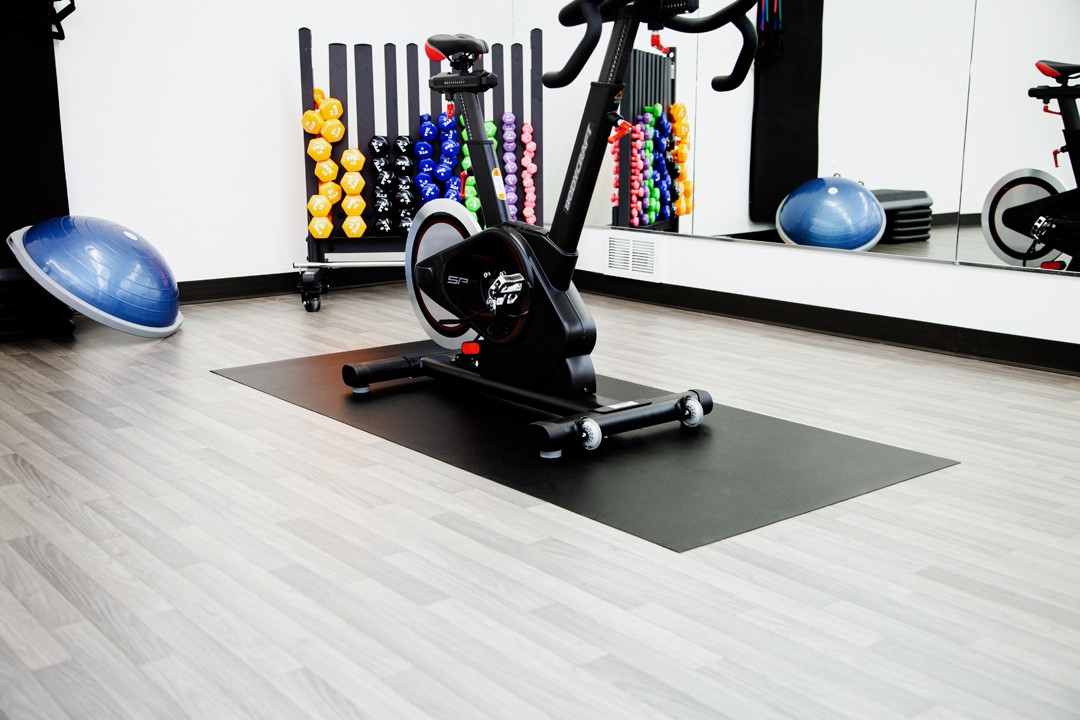 MIDNIGHT BLACK
EQUIPMENT MAT
Surface Texture:
CERAMIC
SIZE:

32 in x 72 in

36 in x 84 in

Composition:
100% Polyvinyl
Wear Layer:
75 mil (0.075")
Warranty:
Limited Lifetime
SLATE GREY
EQUIPMENT MAT
Surface Texture:
CERAMIC
SIZE:

32 in x 72 in

36 in x 84 in

Composition:
100% Polyvinyl
Wear Layer:
75 mil (0.075")
Warranty:
Limited Lifetime
CLEAR
EQUIPMENT MAT
Surface Texture:
CERAMIC
SIZE:

32 in x 72 in

36 in x 84 in

Composition:
100% Polyvinyl
Wear Layer:
75 mil (0.075")
Warranty:
Limited Lifetime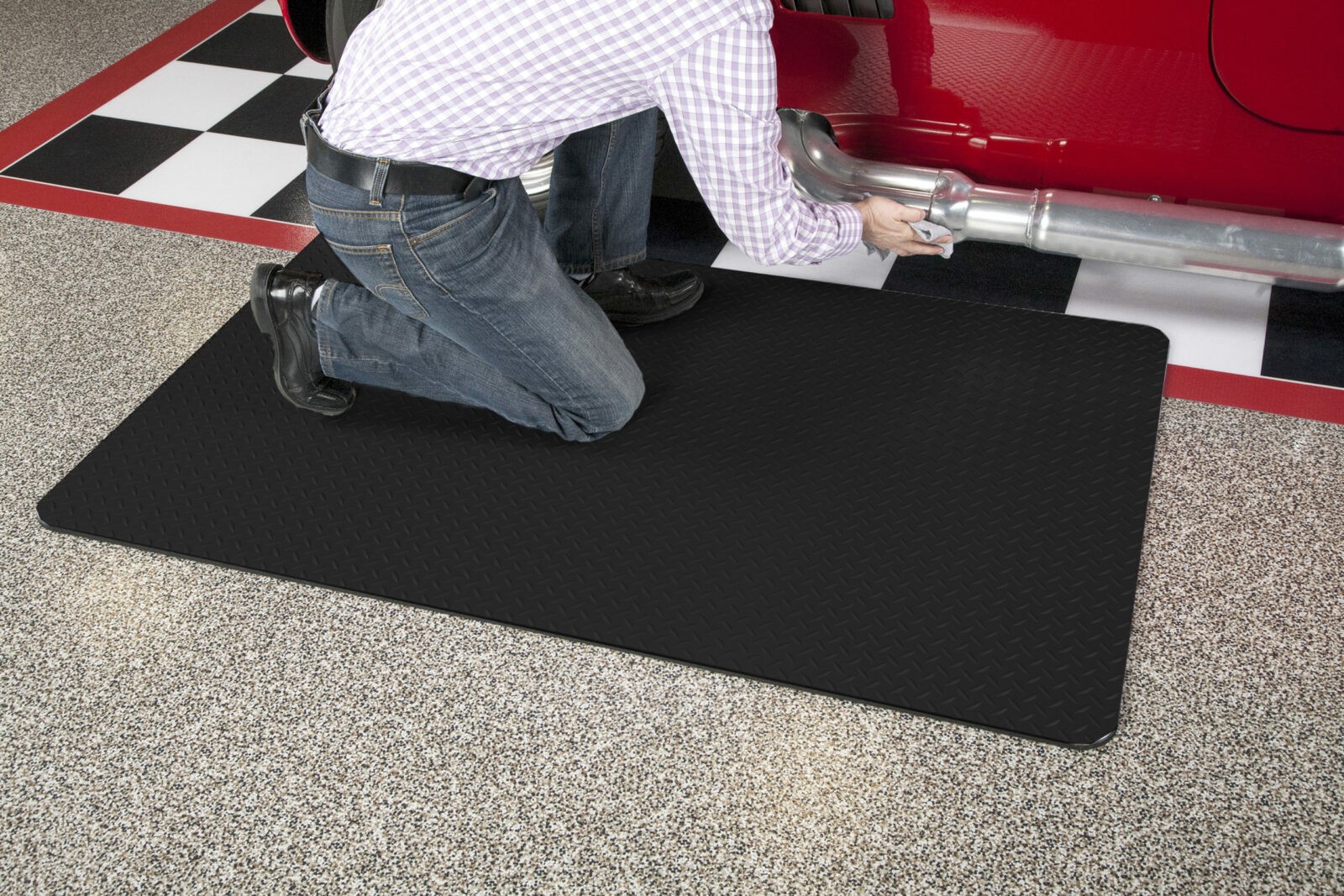 MIDNIGHT BLACK
ANTI-FATIGUE MAT
Surface Texture:
DIAMOND TREAD™
SIZE:

20 in x 36 in

32 in x 47 in

Composition:
100% Polyvinyl
Wear Layer:
75 mil (0.075")
Cushion:
0.50 in
Warranty:
1 year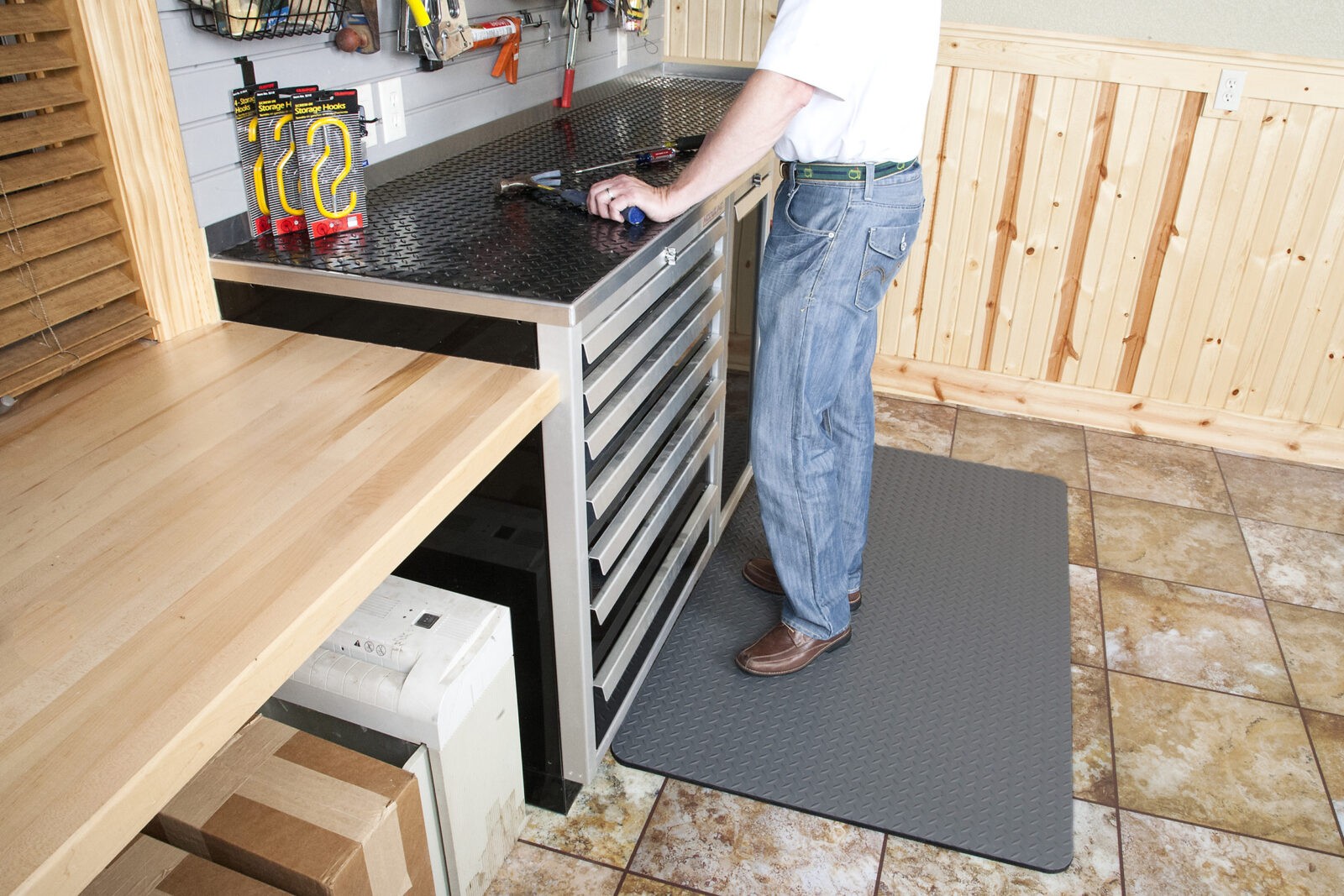 SLATE GREY
ANTI-FATIGUE MAT
Surface Texture:
DIAMOND TREAD™
SIZE:

20 in x 36 in

32 in x 47 in

Composition:
100% Polyvinyl
Wear Layer:
75 mil (0.075")
Cushion:
0.50 in
Warranty:
1 year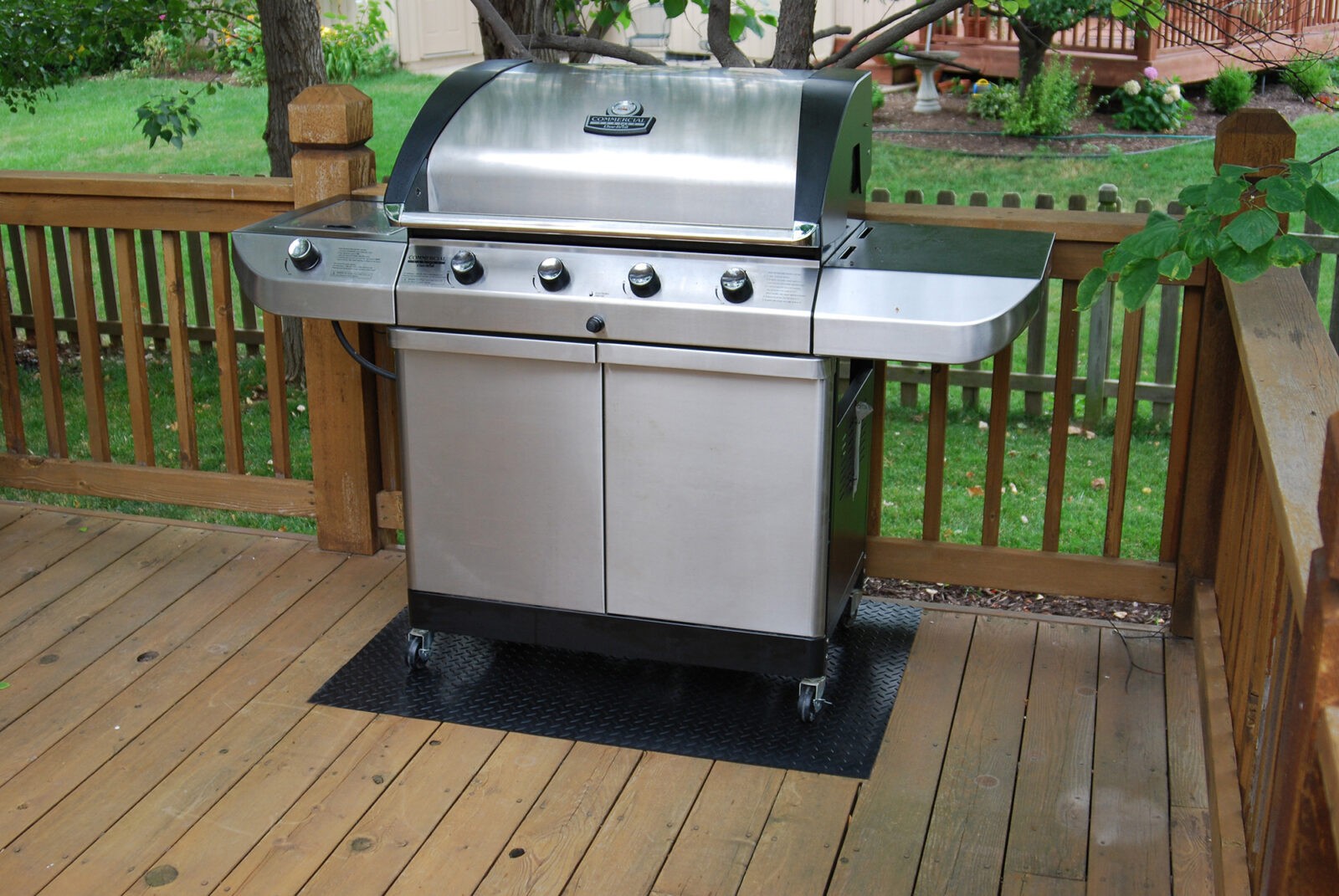 MIDNIGHT BLACK GRILL MAT
| | |
| --- | --- |
| Surface Texture: | DIAMOND TREAD™ |
| SIZE: | 32 in x 47 in |
| Composition: | 100% Polyvinyl |
| Wear Layer: | 45 mil (0.045") |
| Warranty: | Limited Lifetime |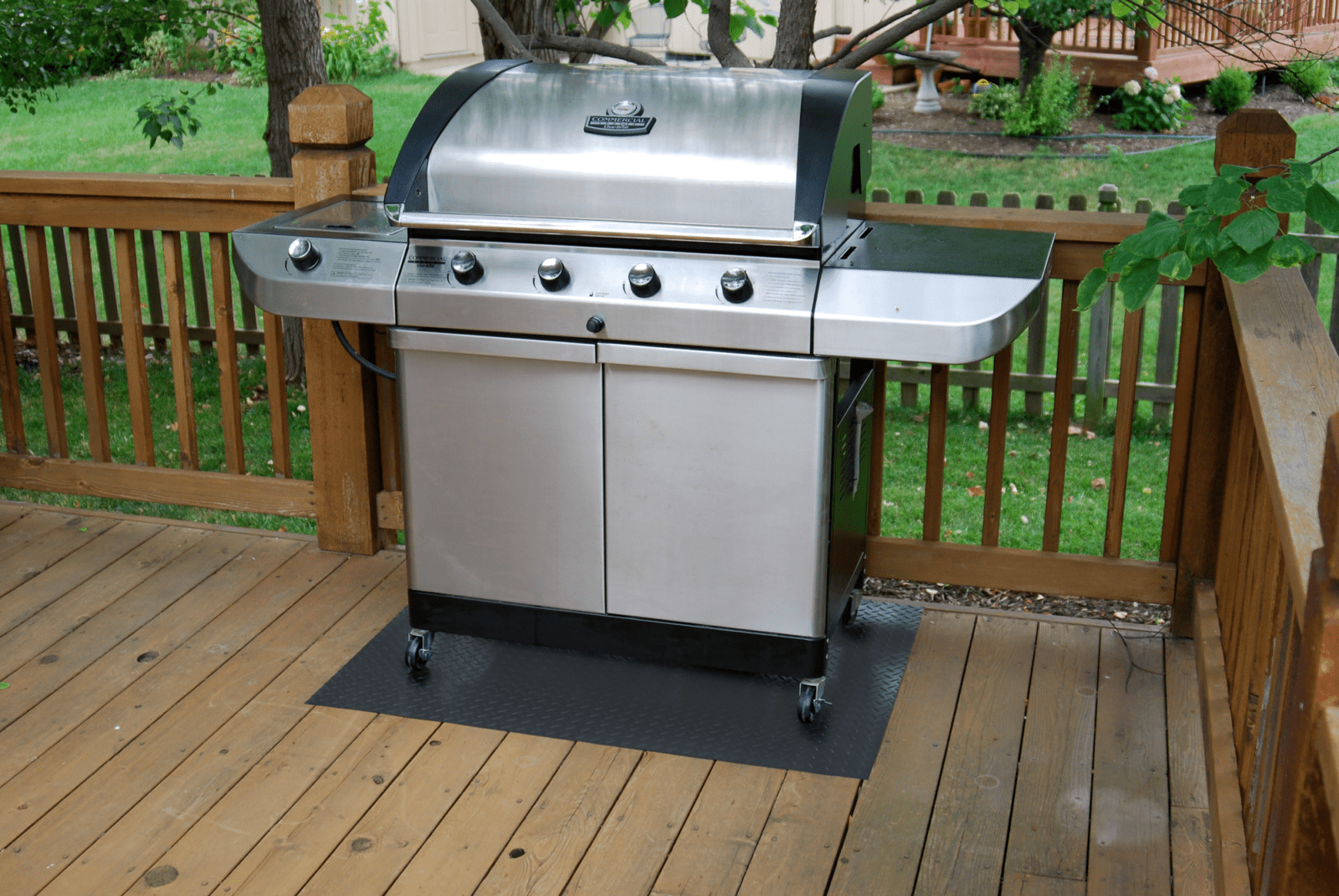 SLATE GREY GRILL MAT
| | |
| --- | --- |
| Surface Texture: | DIAMOND TREAD™ |
| SIZE: | 32 in x 47 in |
| Composition: | 100% Polyvinyl |
| Wear Layer: | 45 mil (0.045") |
| Warranty: | Limited Lifetime |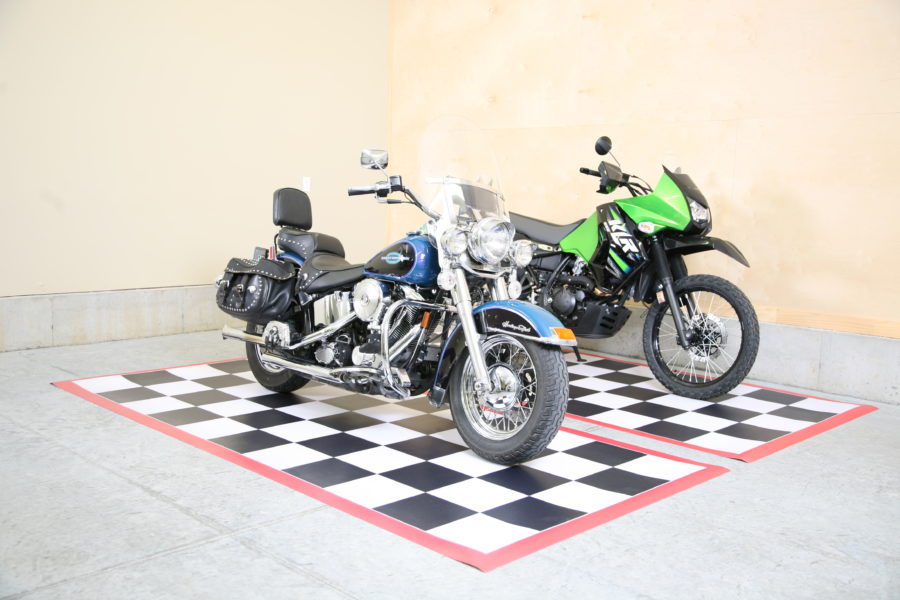 Checkerboard pattern
with red border
Surface Texture:
CERAMIC™
Sheen Level:
High Gloss
SIZE:

5 ft x 10 ft

10 ft x 20 ft

Wear Layer:
75 mil (0.075")
Warranty:
Limited Lifetime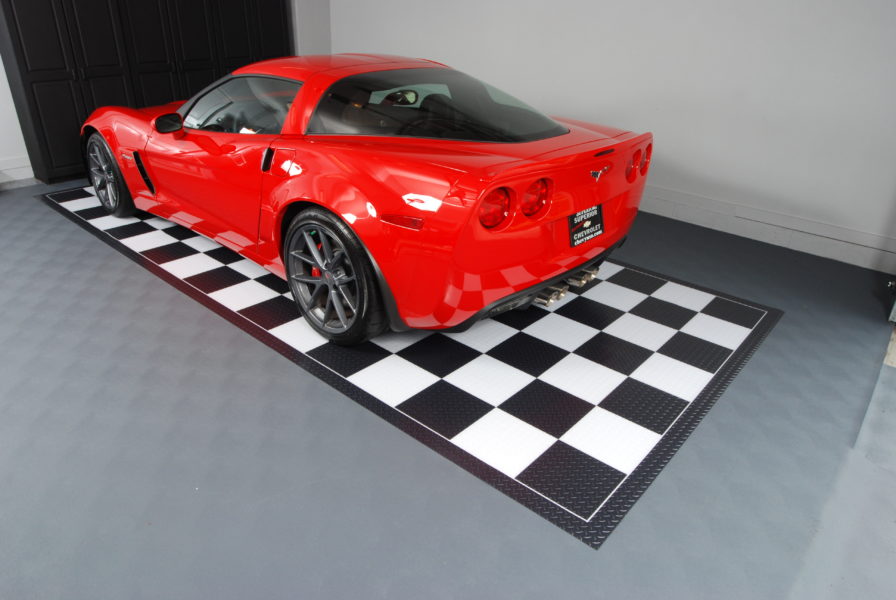 Checkerboard pattern
with black border
Surface Texture:
CERAMIC™
Sheen Level:
High Gloss
SIZE:

5 ft x 10 ft

10 ft x 20 ft

Wear Layer:
75 mil (0.075")
Warranty:
Limited Lifetime
Clear Cover Floor Protectors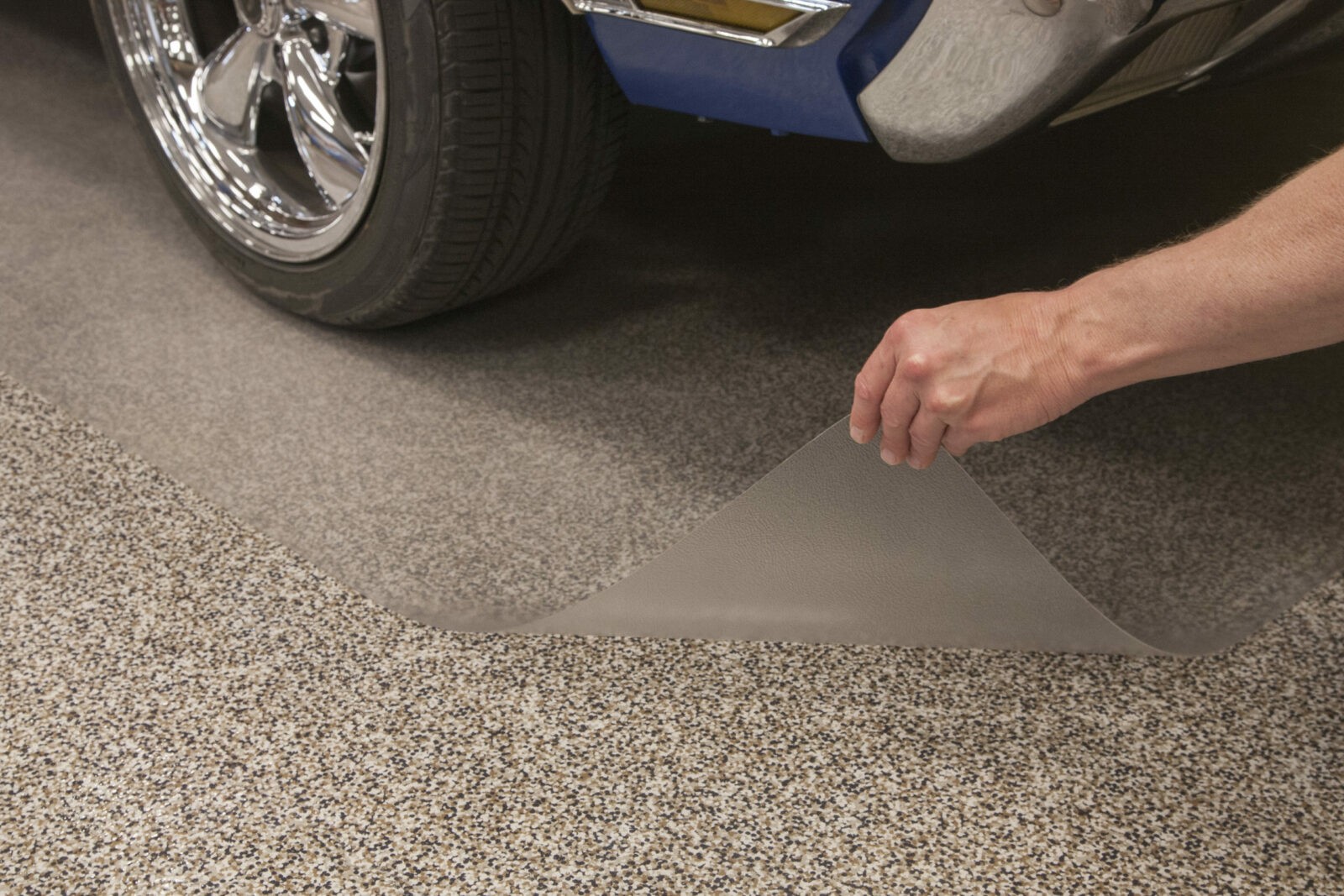 CLEAR FLOOR PROTECTOR
| | |
| --- | --- |
| Surface Texture: | CERAMIC™ |
| Sheen Level: | High Gloss |
| SIZE: | 5 ft x 10 ft |
| Wear Layer: | 50 mil (0.050") |
| Warranty: | Limited Lifetime |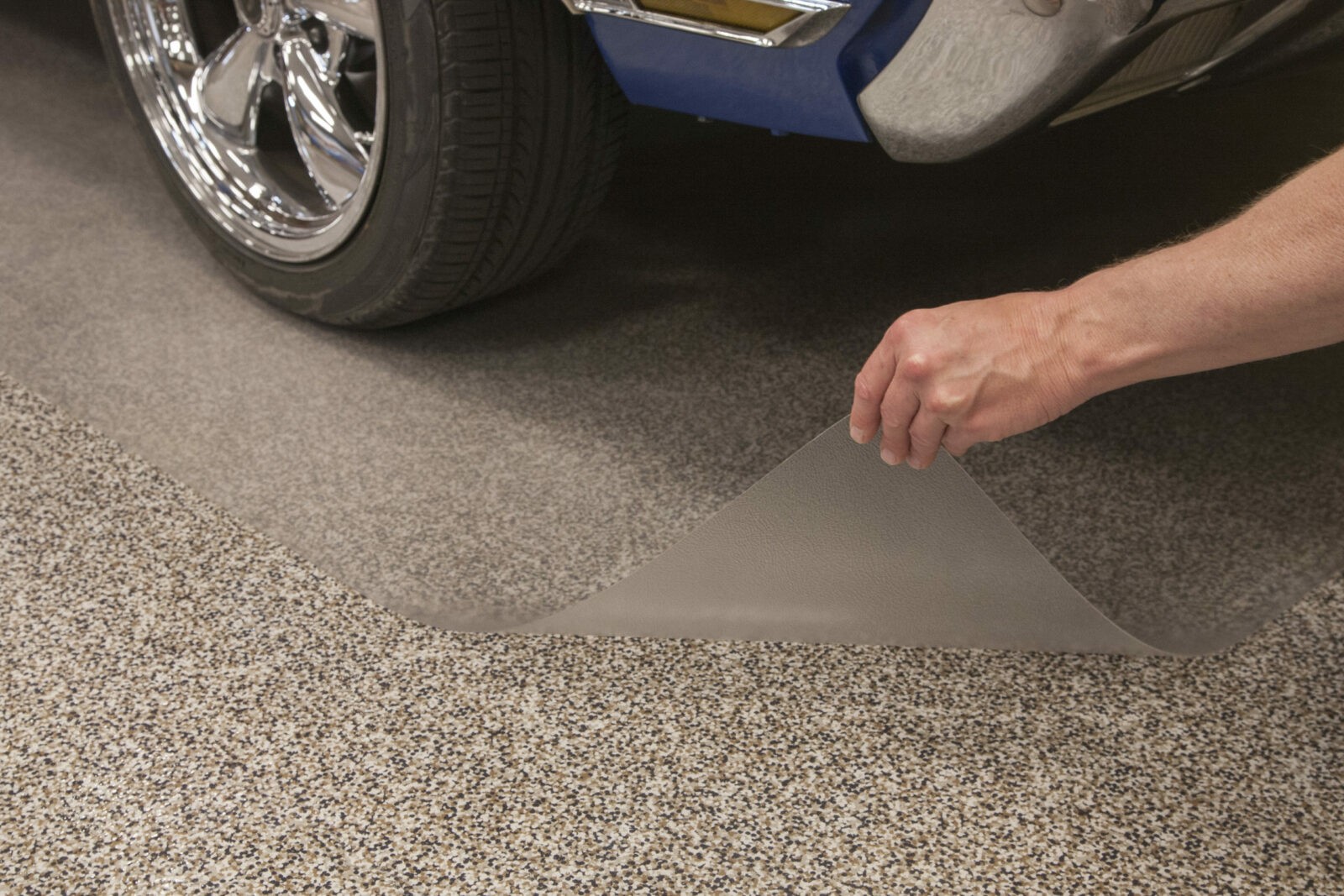 CLEAR FLOOR PROTECTOR
Surface Texture:
LEVANT™
Sheen Level:
High Gloss
SIZE:

7 ft 6 in x 17 ft

10 ft x 24 ft

Composition:
100% Polyvinyl
Wear Layer:
55 mil (0.055")
Warranty:
Limited Lifetime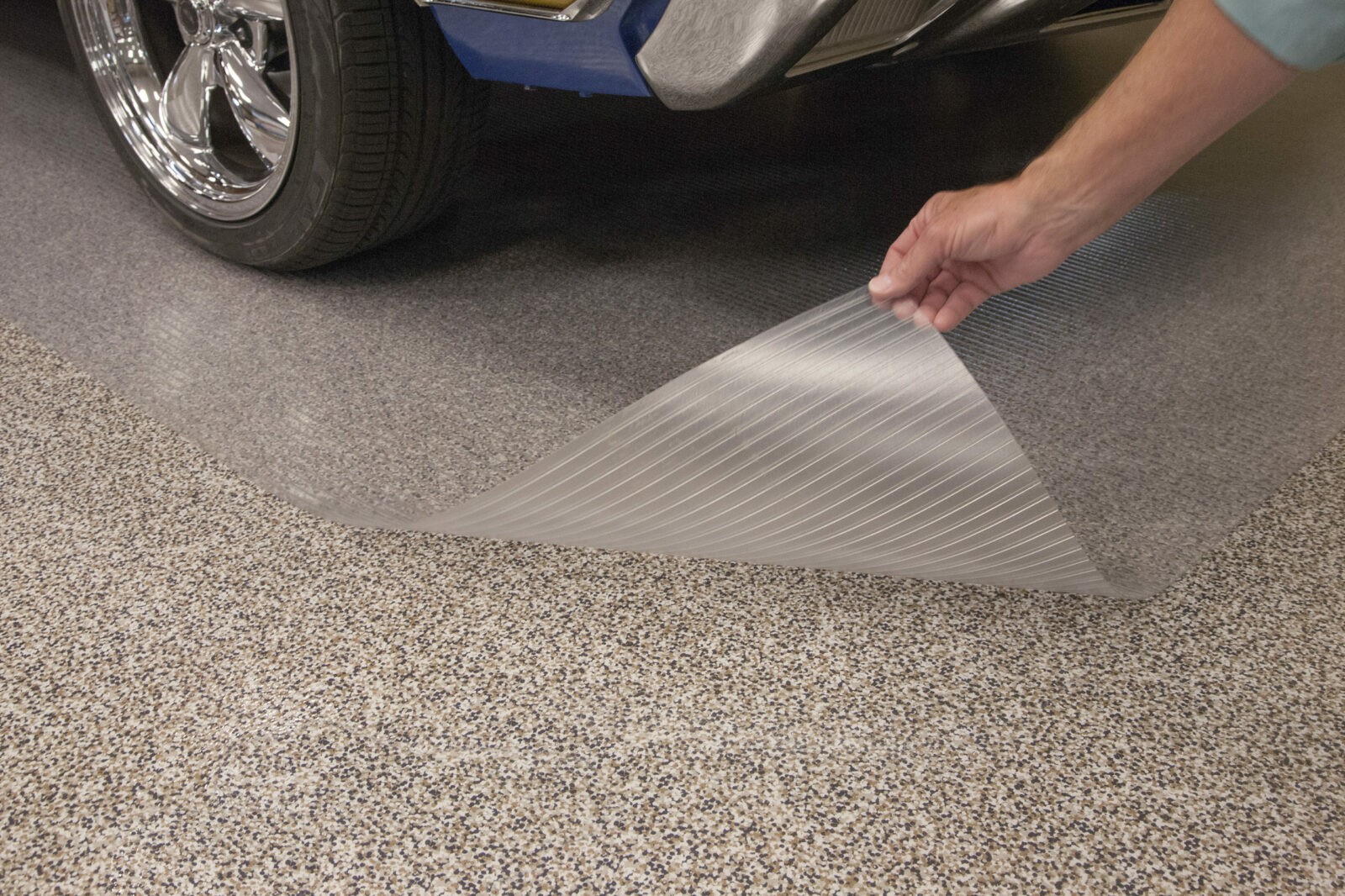 CLEAR FLOOR PROTECTOR
Surface Texture:
RIBBED™
Sheen Level:
Matte
SIZE:

7 ft 6 in x 17 ft

10 ft x 24 ft

Composition:
100% Polyvinyl
Wear Layer:
55 mil (0.120")
Warranty:
Limited Lifetime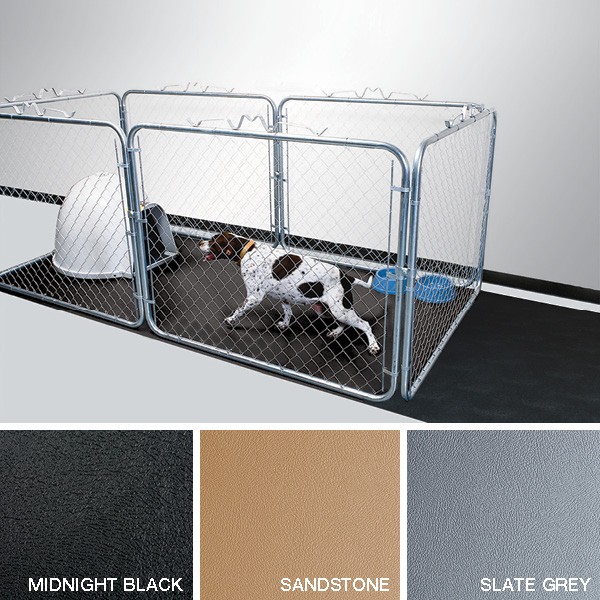 | | |
| --- | --- |
| Surface Texture: | LEVANT™ |
| Size: | 5 ft x 10 ft |
| Composition: | 100% Polyvinyl |
| Wear Layer: | 55 mil (0.055") |
| Warranty: | Limited Lifetime |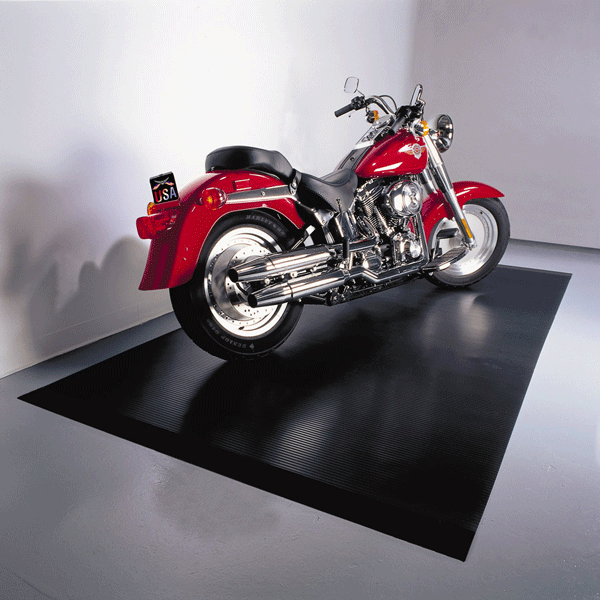 Midnight Black Motorcycle Mat
| | |
| --- | --- |
| Surface Texture: | RIBBED™ |
| SIZE: | 5ft × 10ft |
| Composition: | 100% Polyvinyl |
| Wear Layer: | 55 mil (0.055") |
| Warranty: | Limited Lifetime |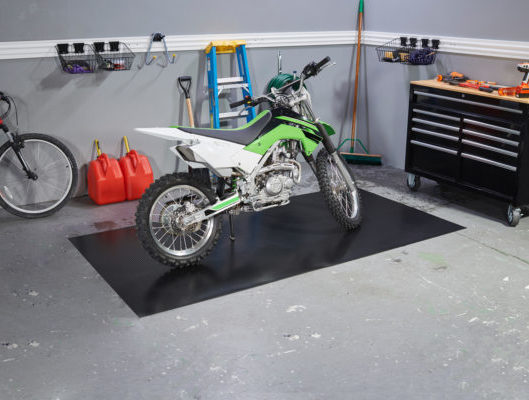 Midnight Black Motorcycle Mat
| | |
| --- | --- |
| Surface Texture: | RIBBED™ |
| SIZE: | 3ft × 8ft |
| Composition: | 100% Polyvinyl |
| Wear Layer: | 55 mil (0.055") |
| Warranty: | Limited Lifetime |
These go-anywhere, free-floating flooring mats truly are universal for business and for home!
G‑Floor® Universal Mats are waterproof, mold and mildew resistant, making their indoor and outdoor uses unlimited. Just unroll and place wherever you need added flooring protection, want to hide an unsightly stain, or just need a comfortable spot to stand. Easy to roll up for storage and for cleaning, G‑Floor® Universal Mats won't peel, crack or curl. As with all other G‑Floor® products, our solid polyvinyl Universal Mats outperform and outlast other competitors – we guarantee they won't wear down even under the harshest weather conditions or extreme use.
Great as a parking pad for your car, motorcycle, riding mower or ATV. Use underneath kennels or size to fit as a cargo mat for complete protection from water and stains. Position anti-fatigue mats near cash registers and work areas where employees stand for long periods of time. Use on decks and patios or in your kitchen or workshop for cushioned support.
PERFORMANCE
Designed for convenience, multiple uses, comfort and longevity, G‑Floor® Universal Mats just can't be beat. Improves traction, beautifies indoor and outdoor areas and protects spaces you use often. So strong you can drive a car on them; yet comfortable enough for extended standing.
DESIGN
Available in a variety of colors and textures, G‑Floor® Universal Mats come in commonly-needed dimensions or can easily be cut to size. Choose from a variety of surface textures to showcase your car or motorcycle or look at a variety of style options for other uses.
DURABILITY
Like all other G‑Floor® products, G‑Floor® Universal Mats are the Gold Standard of polyvinyl flooring. Our mats are made of the highest quality, 100% solid polyvinyl from top to bottom without layering or fillers. Mats won't crack, peel, split or curl over time, making them the toughest and longest lasting all-purpose mats around.
The Gold Standard Of Garage Flooring
G‑Floor® Universal Mats have been a central part of the Better Life Technology product line since our beginning. Through innovation and craftsmanship, we raise the bar on commercial and residential polyvinyl flooring.
Engineered differently, G‑Floor® Universal Flooring is the Gold Standard of flooring guaranteed to outlast and outperform other polyvinyl flooring products on the market today. Unlike competitors using fillers, laminate or quality material only on the top 10-20% of their product, G‑Floor® is purposefully-designed in the USA and made of a thick, solid, 100% polyvinyl. Although the others may look fine on the surface, fragile filler materials compacted together inside polyvinyl flooring actually decrease product longevity. G‑Floor® won't crack, peel, split or otherwise deteriorate like others, and is lightweight and recyclable.
G‑Floor® Universal Mats are featured in numerous home improvement magazines and television shows. We are a #1 choice for consumers in over 1,200 retail stores and with hundreds more online retailers.