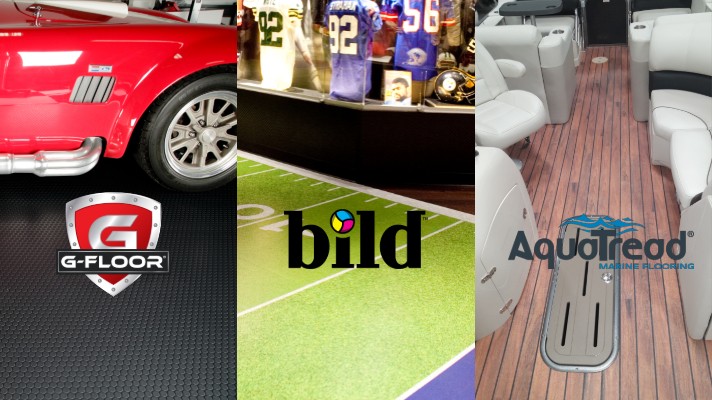 It all started 20 years ago with a goal: Engineer an extremely durable, 100% premium polyvinyl flooring product that's simple to install, easy to clean and serves as an attractive floor protector for commercial and residential uses. Better Life Technology has gone far beyond its first indoor garage floor mats, innovating above as well as below, covering inside and out, and designing to solve the challenges of new and growing markets.
G‑Floor® Universal Flooring
Our signature line, G‑Floor is the foundation of our many other revolutionary polyvinyl products. Manufactured in the USA of thick, solid polyvinyl without fillers, laminates and layers, G‑Floor is impervious to water, scratches, tears, peeling and curling. It is the most durable, long lasting vinyl flooring on the market.
G‑Floor vinyl floor coverings are available in roll-out, tiles, parking pads and mats (universal and anti-fatigue). G‑Floor comes in a variety of sizes, colors and surface textures. There is literally a G‑Floor Universal Flooring product for every garage and workshop, every office building, every retail establishment, every mobile unit, every room in the home and everywhere in between.
The newest addition to the G‑Floor product line is the groundbreaking GrowFloor® and GrowWall™ greenhouse flooring and greenhouse wall coverings. The Grow line helps indoor gardeners grow better and grow more for less.
G‑Floor Universal Flooring, including its unique Transit Flooring, is now available online at Gfloor.com, the only online retailer devoted solely to the G‑Floor family of products.
AquaTread® Marine Flooring
The most durable boat flooring available, AquaTread Marine Flooring is the #1 pontoon boat flooring. AquaTread is water-resistant, slip-resistant, UV-resistant and resistant to fish and marine odors. Its American-made polyvinyl, non-woven material won't snag or dent from fish hooks or anchors and lasts for years in the sun and under lots of footsteps.
AquaTread comes in solid colors and nearly a dozen stunning, crystal clear imaged patterns designed to look like high-end woods and other textures. Special orders, customized graphics and a cushioned Spun bound backing are also available. Images are printed underneath the polyvinyl covered with an advanced topcoat, so they won't wear off even under extreme weather conditions and excessive use.We are thrilled to announce the new AquaTread.com website, your online portal for ordering AquaTread Marine Flooring directly.
G‑Floor Graphic® Print Media
The newest brand addition to the BLT family, G‑Floor Graphic Print Media is a one-of-a-kind, completely customizable, multi-use print media solution. G‑Floor Graphic allows print customers and printers to print beautiful, clear, high-quality images on our innovative polyvinyl material. Especially-suited for marketing, brand building and endless commercial purposes, G‑Floor Graphic is ideal for POP, directional flooring and wall signage, commercial flooring, museum flooring, event flooring, tradeshows, etc. With G‑Floor Graphic Print Media, the possibilities are only limited by your imagination!
And G‑Floor Graphic has the same durable, high-performance characteristics as all our other premium polyvinyl products. Let G‑Floor, AquaTread and G‑Floor Graphic Print Media make your life better!