Engineered differently, G‑Floor® Universal Flooring is the Gold Standard of polyvinyl flooring. Made in the USA of 100% polyvinyl through and through, our thick, solid flooring offers superior performance and durability. We don't use fillers, laminate or quality product only on the top 10-20% of flooring like competitors. Available in a variety of surface textures, colors and sizes, G‑Floor® Universal Flooring products are strong enough to withstand garage and workshop wear and tear, yet offer the flexibility to transform the appearance of any residential or commercial space.
G‑Floor® Universal Flooring is Better Life Technology's signature line and the foundation of our many other innovative polyvinyl applications. Originally developed as the world's #1 garage floor protector, today G‑Floor® expands far beyond the garage and attractively covers the floors of retail locations, transit lines, office buildings and home rooms – quite literally, any area where you want to add life to your existing subfloor.
It's revolutionary advantage:
Offers easy installation, Do-It-Yourself trim and fit
Withstands years of heavy use
Provides a waterproof barrier and is slip resistant
Protects floor from deterioration
Resists oil, battery acid, brake fluid, mud, salt, antifreeze & other common chemicals
Insulates, reduces noise and hides imperfections in the sub-floor
Holds up in extreme temperature and weather conditions
Cushions for anti-fatigue comfort
Hide floor imperfections. Permanently cover a space from wall-to-wall or accent with a free-floating mat. Create a custom tiled look for your office or a luxurious home retreat. Explore the limitless uses for G‑Floor® Universal Flooring, the Gold Standard in polyvinyl flooring.
why choose g-floor®
Engineered differently, G‑Floor® roll-out flooring is the Gold Standard of flooring guaranteed to outlast and outperform other vinyl flooring products on the market today. Unlike competitors using fillers, laminate or quality material only on the top 10-20% of their product, G‑Floor® is purposefully-designed and Made in the USA, made of a thick, solid, 100% polyvinyl. Although the others may look fine on the surface, fragile filler materials compacted together inside vinyl flooring actually decrease product longevity. G‑Floor® won't crack, peel, split or deteriorate like others, and is lightweight and recyclable.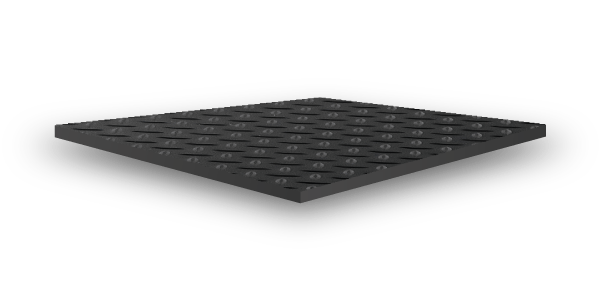 G-FLOOR UNIVERSAL FLOORING
Durable, 100% PVC Flooring
Multi-Use
Easy to install, Easy to clean
Manufactured from a specially engineered polyvinyl that protects floors from damage caused by auto liquids, road salt, dirt & grime, even battery acid
Multiple Textures and Colors
Lifetime Warranty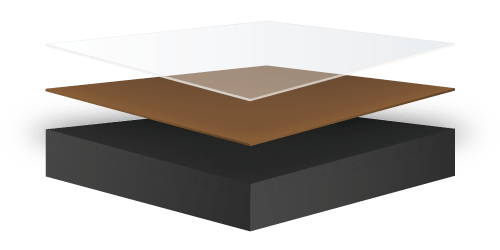 COMPETITORS' LAYERS
Wear Layer
Thin Tread Layer
Base composed of fillers
VARIOUS FILLERS
Paper
Organic (Clay)
Foam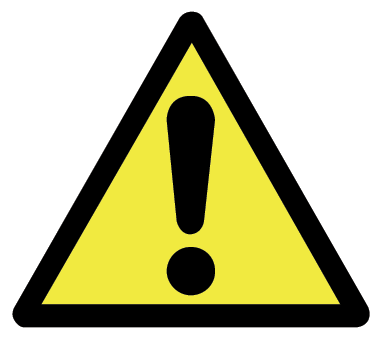 WARNING  This product can expose you to chemicals including - Vinyl chloride monomer; Carbon black; Ethyl acrylate; Titanium dioxide; Rutile (TiO2); 1,2-benzendikarboxylsyra,di-C8-10-alkyl ester, grenad; Nickel antimony yellow rutile (C.I. Pigment Yellow 53); Quartz; which are known to the State of California to cause cancer and/or Diisodecyl phthalate; which is known to the State of California to cause birth defects or other reproductive harm.For more information go to www.P65Warnings.ca.gov